XCAT: External Course Approval Tool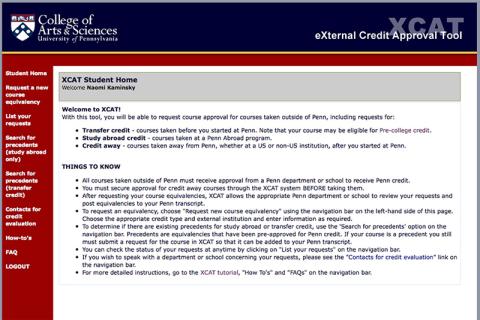 XCAT is the online External Course Approval Tool used to determine credit at Penn for transfer, credit away and study abroad courses for all students across all four undergraduate schools. To request credit from Wharton, Nursing or Engineering, students should contact the advising office for that school.
Through this system, students submit requests for Penn approval, departments make determinations regarding approval and credit and home school advisors and the Registrar's Office post credits to the Penn transcript. Questions about departmental approval should be directed to the appropriate department contact for credit evaluation.
Note that receiving department approval in XCAT for an external course request is not sufficient for receiving credit at Penn for the course. Students must meet all of the requirements for receiving credit at Penn, which may vary by school. Students should contact their academic advisor for any additional credit requirements beyond departmental approval.
Transfer Credit
Transfer credit is used for courses taken before matriculation at Penn. Study abroad credit includes courses taken at a Penn Abroad program.
Credit Away
Credit Away courses are courses taken outside of a Penn-approved program after matriculation at Penn. A student must secure approval for credit away courses through the XCAT system BEFORE taking them.
Study Abroad
XCAT is used to request College course equivalencies for courses taken abroad. See details on using XCAT for study abroad.
Questions about the XCAT system can be directed to Dr. Tanya Jung in the College by email or by calling 215.898.6341.