Due to COVID-19, study abroad has been suspended for fall 2020 and spring 2021. 
General Information
 
Students in the College have the opportunity to enrich their academic experience with a number of global opportunities. This can include participating in a semester or year-long study abroad program, enrolling in a Penn Global Seminar, or interning with a company or organization in another country. We encourage students to think about the ways in which these global experiences can have a powerful and lasting impact on their time at Penn and beyond. For example, many students take coursework that integrates into their major, provides them with an opportunity to continue their study of a language, or allows them to learn more about other cultures both in and outside of the classroom.
Depending on their academic interests and goals, some students may need to take language courses or other relevant coursework to prepare for a study abroad experience. A College advisor can review these course requirements and help students determine how courses taken abroad will fit into their academic career.
For information about other global opportunities on campus, please visit Penn Global.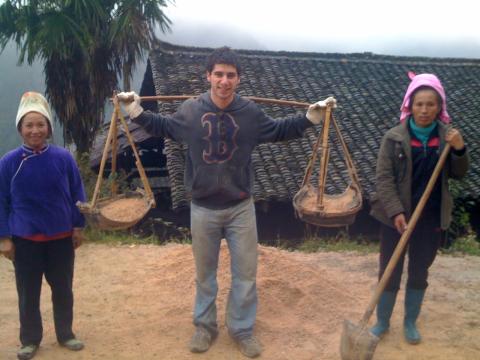 Study Abroad
Learning about languages and cultures through an immersive experience abroad can be a valuable component in your Liberal Arts education.
Penn Abroad provides information to undergraduates about semester and year-long study abroad options and administers those study abroad programs. Consult the Penn Abroad webpage for College students for comprehensive information regarding study abroad, including details on the various program offerings, the application process, financial information, and contact information for Penn Abroad Global Program Managers.
Students who have questions about how their courses abroad will fit into their College curriculum or who have other academic-related questions about study abroad can meet with the College advisor that is assigned to their region of interest.
Students who wish to study abroad on a Penn summer program should contact the College of Liberal and Professional Studies. Students may choose to study abroad in the summer through a four-year, degree-granting, accredited institution other than Penn. If a student wishes to transfer the credits to their Penn transcript, they must seek course approval from the relevant Penn departments before classes begin. These courses are considered credit away, so each course must be approved through the External Course Approval Tool (XCAT) and the course grades are not calculated into the Penn g.p.a. Students who have questions about this process should contact Rebecca Poyourow in the College Office.
Students interested in a shorter period abroad may wish to investigate Penn Global Seminars. These courses combine an intensive semester-long seminar with a short-term travel component led by the course's instructor.
Study Abroad: Step by Step
Following these steps and watching the recommended tutorials will help in selecting a program, planning courses and enjoying your experience abroad.
Policies and Course Approval